You've tried filing a tax submission online and all you earned for your efforts is an "Authentication Failure". "Error 1046. The supplied user credentials failed validation for the requested service".
This guide covers the most common reasons for this fault, and how to resolve them.
Reason 1: Your Gateway User ID or Password is wrong.
Re-enter your Gateway User ID and password, save, and re-attempt your submission.
Reason 2: Your online filing account is not yet activated.
Call the HMRC Employer's Helpline on 0300 200 3600 (Monday to Friday 8am to 8pm).
Reason 3: Your online filing account or PAYE scheme has closed.
Accountants and agents see this authentication related rejection error regularly. It tends to happen when clients close their PAYE schemes without informing their agent first.
Call the HMRC Employer's Helpline on 0300 200 3600 (Monday to Friday 8am to 8pm).
Reason 4: You have TEST MODE switched on.
Switch it off. TEST mode will not work with your live submission credentials.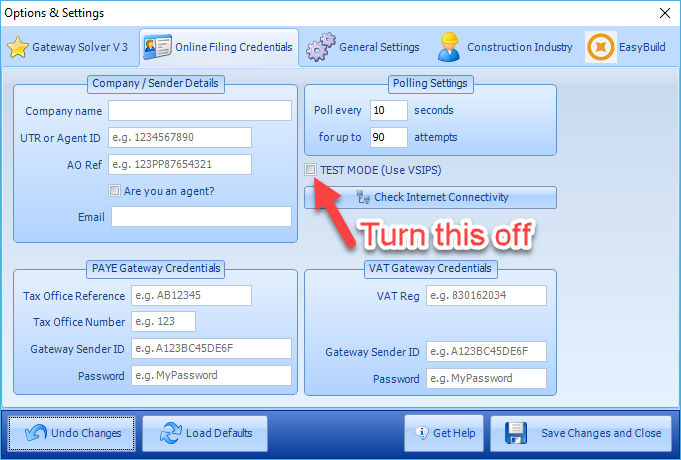 Reason 5: Your Tax Office Number, Tax Office Reference, Accounts Office Reference or UTR are wrong.
This is the most common reason (Editor: So why did you make everyone read until Reason 5?) for an authentication failure.
Tax Office Numbers are always three digits (e.g. 123).
Tax Office References are usually one or two letters followed by approximately five digits (e.g. WA12345).
Accounts Office References (AORef) is always three numbers followed by a "P", another letter, and then eight digits (e.g. "123PX87654321").
Unique Taxpayer Reference (UTR) numbers are always ten digits. No exceptions!
Confusingly: HMRC will sometimes advise you of your "Employer Ref" like this: 123/WA12345. The first part (123) is your tax office number, and the latter part (WA12345) is your tax office reference. Don't put the forward slash "/" anywhere.
Reason 6: The Government Gateway / HMRC servers are overloaded.
This is particularly common in April, and on the 18th and 19th of each month in the afternoon. Prepare and file from the 5th of the month, not the 18th!