Gateway Solver is a software product which provides companies with a way to handle the online filing requirements of PAYE/RTI and CIS with full HM Revenue & Customs recognition and compliance.
Gateway Solver can be used either;
Used independently to make your PAYE / RTI submissions, VAT returns and CIS 300 Monthly Returns and Subcontractor Tax Treatment Verifications, as well as to retrieve notifications from HMRC.
Gateway Solver for CIS filing
Use Gateway Solver as an add-on to supported third-party software partners to perform the online filing functions on behalf of your existing software package.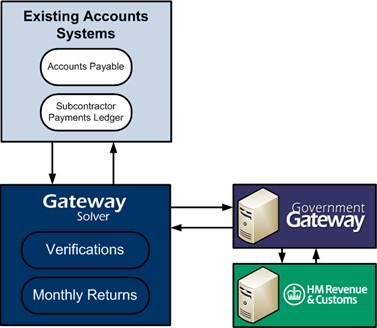 Gateway Solver integrated with existing system (i.e. Microsoft Excel, In-house software or ERP solution)
Gateway Solver aims to provide a straightforward system which is fully compliant with all regulations. Gateway Solver has been developed by Evolved Software Studios Ltd, a vendor whose technology has met all requirements for full internet recognition with HM Revenue & Customs.
System Requirements
Windows Desktop Operating System (Windows 10, 8, 7, XP or later) or Windows Server (2013, 2012, 2008, 2003 or later).
Internet Connection (must allow traffic to *.gov.uk and *.evolvedsoftwarestudios.com). See here for required firewall rules.